Dear backers,
I hope you are doing well! This month I bring some massive news for you regarding Manyverse and the SSB ecosystem.
Rooms 2.0
After months of concerted effort from the SSB NGI Pointer team, Wouter Moraal (UX designer working for Manyverse), and the Manyverse team, we are now ready to reveal a new way of connecting to friends on SSB. We are launching Room servers 2.0, a new community server modality that can also grant you a personal web link to use to invite friends.
We prepared a video for you, it also comes with some demos showing how it works with Manyverse, so I highly recommend taking a look. :)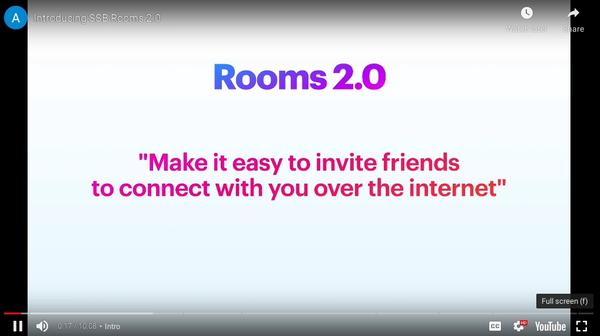 I've been thinking about the connectivity problem in SSB for years, and I think this is finally a decent solution. On one hand, we want to avoid building dependency on servers that are prone to centralization and power asymmetry. On the other hand, direct peer-to-peer connections on the internet sounds ideal, but in practice they frequently don't work, not to mention privacy concerns with leaked IP addresses.
I believe room servers strike a great balance: they provide reliable connectivity and IP address privacy, but are fungible and don't control user data, so to avoid centralization and rigid power structures. The more rooms there exist, the better off we'll be as a distributed social network.
With this next iteration of rooms, we are making it easy for any room member to invite others to join SSB, solving one of the longest standing obstacles in adopting SSB.
New releases
Last month we made some releases that enable support for Rooms 2.0, most of which you can get acquainted with in the video above. Special thanks to David Gómez and Jacob Karlsson from the Manyverse team who helped me design the new screens in the app. Here's the total list of changes shipped in versions 0.2105.28 and 0.2106.4:
🎉 Feature: register room aliases
🎉 Feature: show connection dot on the Profile screen
🎉 Feature: sign into room website from Connections tab
🎉 Feature: show translation link on the drawer menu
🎉 New default emojis in the reactions popup
🔷 Improve font size of the bio text on profiles
🔷 Improve style of "Follows You" on the Profile screen
🔷 Improve style of your profile in the drawer menu
🔷 Remove "connect and follow" menu option
🔷 Improve German translation
✅ (Android) Bug fix: picture upload works on Android 10+
✅ Bug fix: all SSB URIs should now work correctly
✅ Bug fix: Edit Profile no longer shows unnecessary popup
✅ Bug fix: publish of hashtags supports hyphens
It's now a bit easier to translate Manyverse to your local language, since the app has a menu item that takes you to a page (https://www.manyver.se/translations/) instructing you how it works. Based on user feedback, we added Persian, and the German translation got improved too.
Also based on user feedback (bug reports by email), many of you made it clear that picture uploads didn't work on Android 10. This should now be fixed on version 0.2105.6, released yesterday.
Desktop progress
Patchwork has been the main SSB desktop app, but recently it was officially deprecated, in the sense that no one is maintaining it any longer. It will still function normally for many years to come, but the SSB ecosystem is in need for another desktop app that has the latest features.
Jacob and I decided to combine efforts in making progress on Manyverse for Desktop, an Electron-based project we started a year ago, but have only sporadically worked on it, as it wasn't a big priority. I'm happy to say that progress has been not hard to make, and we're making some breakthroughs already.
It's still very buggy and not recommended to run for the normal user (if you publish any message on Manyverse Desktop, it might fork/break your database), but the Frankenstein is slowly coming alive. There is a thread on SSB – %f5LvRb79CgCvz7+5f3h4tuZBalXilWxzZkuyt1+/s0U=.sha256 — where I'm sharing technical achievements. The latest milestone was to make it load the Welcome screen, the Central screen, the different tabs, and view threads and likes. Check out the screenshot below:
We don't have an accurate estimate of when it'll be completed, but my guess is still this year. This is only possible because we have enough funding from all you backers, at the moment of writing 1800EUR/month, which allows Jacob and I to work part-time on this project. Soon we will have Manyverse on 5 different platforms: Android, iOS, Linux, macOS, Windows. Sounds like it's going to be a great year. :)
Kind regards,
— @andrestaltz