2022 is the year of Manyverse for Desktop. The wait is over! After more than a year in development by Jacob and I, you can now enjoy the app on Windows, macOS, and Linux. Visit our downloads page to get the installer for your platform.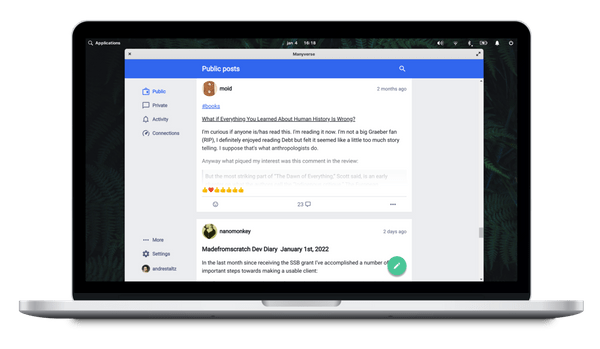 This marks a new era, Manyverse is now the first-ever cross-platform SSB app. And importantly, the SSB ecosystem last year was in dire need for a desktop app that is actively fixed and improved.
This first desktop version is what we're calling MobPar (Mobile Parity), which means it can do everything that Manyverse Mobile does, apart from Bluetooth sync which is a special feature for Android only. If you're a frequent user on Android and iOS, you will have no difficulty in navigating Manyverse Desktop, it's basically the same thing, with minor changes to the layout such as the left-side menu custom made for desktop. One of my favorite features is support for SSB URIs, for instance, once you install the desktop app you can easily open my account by visiting staltz.hermies.club, as well as SSB URIs for messages.
We don't yet consider Manyverse a drop-in replacement for Patchwork, because there are some important features missing, such as Gatherings (scheduling events with friends). We plan to support all Patchwork use cases in what we call PatPar (Patchwork Parity), and we hope it'll be ready this year.
Apart from the desktop announcement, we also fixed a critical database glitch in today's version 0.2201.5. This is the list of changes:
✅ Bug fix: database glitches
🎉 Feature: check for new version available
🎉 Feature: linkify cypherlinks in raw messages
🎉 Feature: new progress bar at the bottom
🎉 Feature: render Patchfoo-style mentions
🔷 Improve UI responsiveness after reopening app
🔷 Improve Finnish translation
🔷 Improve German translation
🔷 Improve Ukrainian translation
I am grateful for Jacob, who fought some nasty bugs when porting the app to desktop. We both are grateful for donations that enabled this outcome to become real. We're also grateful for David Gomez's frequent involvement, and for alpha testers that highlighted all the important stuff to fix before launching, in particular, moid, gwil, glyph were really proactive with stellar feedback. This latest version also includes two features from cel, huge thanks for the code contributions! I wish I had a way of discovering who did the translations, you too deserve applause!
Personally, I'm relieved for getting it done, but at the same time I'm tense about the responsibility to keep the app running on 5 different platforms. But above all, I'm very excited, this reminds of the time I launched Manyverse in September 2018. Lots of things are about to happen!
THANK YOU
— @andrestaltz